September, 2020
"SET UP or UPSET?
"Set your affection on things above, not on things on the earth." Colossians 3:2
Here is a clear call for the Christian to respond to redemptive grace by loving the things of God more than the things of the world. And, like so many divine directions, what sounds very easy turns out to be difficult to practice. The Coronavirus pandemic though has aided us believers in get- ting our affections in the right place and order. The Lord knows exactly what we need and will not let us ride on the "high horse" of the world for long. For the most part, the last few months have revealed that the world as we have known it can change. Things of the world, comforts of the world, places of the world, which we centered our activity and happiness around, now seem less necessary, even frivolous. The revival that we are experiencing right in the midst of tough times is not a revival of the church as an institution, but of individuals bought by the blood of Jesus Christ and placed in the body of Christ for the one purpose of glorifying God.
It's another facet of His amazing grace when our hearts can hurt and yet be happy at the same time. It is true that we often see Heaven most clearly through the prism of tears. We have seen things happen in the world lately which we would never have dreamed would or could happen. Are we really living in America today? Many of the things and privileges of our great country are being shaken. Fear seems to have overridden faith! People are afraid of the virus, afraid of the rioters and afraid to say anything that might imply racism, even afraid of each other. Yet, the most frequently given command from our Lord Jesus is "Fear not." Now, if we look at the outside, or external things of this world, then we will surely have much reason to fear. But, if we can focus on the unseen treasures of Heaven and immortal glory, not only will our "spirit man" be strengthened; our Christian common sense will kick in too. Christian common sense, or maybe I should call it Christian uncommon sense, is the ability because of the new birth, to realize, accept, and submit contently to the fact that this world is quickly becoming less of a treasure to our hearts and the stronger attraction to heavenly things fills us with joy when the world around us is caving in. So, instead of being upset, the genuine Christian is "set up." It is God's Holy Spirit that sets us up to receive the benefits and bounty of the eternal life we have been given by Christ our Lord and Saviour. Instead of letting the world make us miserable, a born again Christian has a merry heart because he or she knows that this world does not provide lasting hope and happiness.
"If in this life only we have hope in Christ, we are of all men most miserable." I Corinthians 15:19
Actually, when we face tough times in this life and have hurt and heartbreak to bear, it usually means that God is setting us up for greater things. You might say that calamities and problems we deal with here on earth stretches our hearts so that we can hold more blessings. One thing for sure; our God is a blessing God. He doesn't bless us because we earn nor deserve a blessing. He blesses us in spite of ourselves. You know, God gets glory whether we give it to Him or not. You remember that Jesus said the rocks and trees would give Him glory if He wanted them to when the people didn't. Every set back is only God's set up to enable us to reach by faith the godly lifestyle He has called us and equipped us to live here on earth. This pandemic has the potential to be a wonderful way to appreciate God more as we loose our grip on earthly treasures and hold tighter to the things which really are important, are better for us and last longer.
When my calves are about seven months old, I place them in a lot, separated from their mothers. In livestock language, it's the process of weaning. The calves don't like it one bit, neither do their mamas. The objective though is to get the calves feeding on a feed that will be better for them and one that will enable them to mature and fulfill their purpose. It usually takes about seven days for the calves to settle down and focus on the nutrients before them instead of whining for their mothers. After a couple of weeks, the calves are happier than they were in the field freely find- ing what they thought was a fulfilling meal. The calves will not wean themselves. I have to separate them and keep them away from their previous source of sustenance. God's people do not normally wean themselves from the world either. Our fallen nature still has a hankering (at least a little) for the things of the
world. So God may send a pandemic or some problem to force His worldly minded children to get what they really need — His Holy Word. I really believe that more Christians are into the word now than have
ever been before. And, many have been weaned from going places and doing things they once thought they could not live without. The Coronavirus has some horrific effects, has taken many lives and interrupted family and friendships with quarantines, although none of which are not under God's watch. Many today have realized they really don't have to do so much, be so much and go so much to enjoy life and God. You might say that we have been weaned from much the world has to offer. And if we stay in the Word and keep our crosses up in our yards, we'll be strengthened by the Bread of Life so that we will bear fruit for God's glory and be witnesses of His grace and mercy. The world will have to notice Christians who can live through pandemics and still be persuaded that God is able to protect and keep them until the cows come home or hell freezes over.
"For the which cause I also suffer these things: nevertheless I am not ashamed: for I know whom I have believed, and am persuaded that he is able to keep that which I have committed unto him against that day." II Timothy 1:12.
Really, life on earth for the believer in the Lord Jesus Christ is a set up to keep up until we go up. When we are down to nothing, we can be assured that God is up to something. He is setting us up to be conformed to the image of the Lord Jesus Christ. The Great Potter of the universe knows what He is doing and not one vessel He shapes and molds through the wheel of adversity or the furnace of afflictions will be cracked or marred, or not balanced to set upright. We ought not to be upset because of what the world is saying. Rather, let's "set up" and see Jesus calm the storm and feed the multitude with just a little bit! After all is "set" and done, we ought to obey God rather than men the Word says.
Let Down Your Anchor.
The hymn "My Anchor Holds," written by W. C. Martin is a good way to tune the soul when the sea of life is raging. The third verse and chorus of that wonderful hymn should set us in the heavenly direction when the world is taking us out on a rough sea of strife and un- certainty. Notice the third verse and chorus:
I can feel the anchor fast, As I meet each sudden blast,
And the cable, though unseen, Bears the heavy strain between; Thro' the storm I safely ride, Till the turning of the tide.
And it holds, my anchor holds; Blow your wildest, then, O gale, On my bark so small and frail, By His grace I shall not fail, For my anchor holds, My anchor holds.
The cable, though unseen is faith. When times are tough and our lifeboat is rocking from the winds, the unseen, underneath influences are what's going to get us through the trouble. It's what is in your heart that matters most! Life can be upsetting when we look at it from the outside. The devil always works from the outside in. He tries to get us to doubt God's Word and faithfulness, and he puts evil before our eyes so that we want or fear what we see. Our Heavenly Father though works from the inside out. He gives us His Spirit and His Spirit gives us faith, the hidden cable that steadies our boat when we tie into Jesus. Rather than coming unglued in the gloom and feeling flattened out in the ruckus, we can set up by grace and hold our place with hope and joy.
When we let down our anchor, it's like putting our foot down and refusing to be tossed to and fro by worldly events. No matter how hard the going gets, hope can hold us because Jesus Christ is our hope. He will provide a steady hand and sure word that can calm any stormy gale that comes. So, when you are afraid, use your anchor.
"What time I am afraid, I will trust in thee." Psalm 56:3
Stay In Your Place
God's word plainly tells us to "set" our affections on heavenly things, or on godliness and spiritual things and truthful things. That
means we are going to have to be deliberate and intentional with our feelings. And our Lord Jesus Christ said that "As a man thinketh in his
heart, so is he" which means we better be careful of what we love. Since perfect love can cast out fear, there is no need for a Christian to stay upset for any length of time. Although the toils and turmoil of life experiences may overwhelm our emotions, even turn us upside down, God's perfect, everlasting love holds us in the very palms of His almighty merciful hands.
Often, Christians may struggle with trying to figure out God's will for their lives. There is no reason to be upset with wondering if you are doing what God wants you to do or not. Jesus makes it simple.
"Jesus said unto him, Thou shalt love the Lord thy God with all thy heart, and with all thy soul, and with all thy mind." Matthew 22:37
Salvation is what God uses as the means to set us up to love Him. The number one greatest commandment from the creator and ruler of the uni- verse would be impossible unless God loved us first. But because He did, we should not be upset with our failures and lack of holy zeal, rather, we should stay in our place in the shade of His grace and be satisfied with the pace He gives us. What should set us up with encouragement is knowing that we can love God right where we are. We do not have to go anywhere or doing anything nor be anybody else. The peace which is the result of doing what our Lord wants us to do wipes away the tears and tales of trying to serve two masters. There is nothing more up- setting for the redeemed children of God than disobeying the one who died on the cross for them. Maybe when we're upset, we should try con- fessing our sins. Conviction and guilt could be a set up to remind us of how much God loves us. The Lord can forgive us right where we are too, we don't have to go anywhere but to Jesus.
If we break a bone, most likely the doctor will set the bone back in place and then put a cast around the area to keep it in place. Sometimes we all have our hearts broken. Tragedies and loss can shake us out of place and put us on a roller coaster of fear and pain. When that happens, the great physician takes us in His arms and holds us and keeps us from shaking. Remembering that our God is sovereign and that He loves us unconditionally is like a cast on a broken bone. The thing about it though is that we have to stay in place, that is believing on purpose that God is who He says He is, that He did what He said He did, and that He will do what He says He will do. If we can think about the goodness and power of God long enough, our broken hearts can be healed. Most likely there will be scars, but there will be no infection to upset us.
There is some truth to the adage that you are as happy as you make up your mind to be. Setting our love and devotion to the Lord Jesus Christ must be emphatic and projected. Every morning when we arise we must decide if we are going to serve the Lord or not. It should be as the Christian song says, "In the morning when I rise, give me Jesus." We ought to give Jesus our all, given He has given His all for us on the cross of Calvary. Although we can give Him our money, our time, and our service, yet, if we don't give Him our mind we can easily be upset when things don't work out the way we planned or wanted them to. Christianity is a thinking religion and God's amazing grace through the new birth has caused us to be spiritually minded so that we can follow the Lord's prescription for peril by having the mind of Christ. When our Lord Jesus was on the cross, His mind was on the Father, on heavenly things!
"Looking unto Jesus the author and finisher of our faith; who for the joy that was set before Him endured the cross, despising the shame, and is set down at the right hand of the throne of God. For consider Him that endured such contradiction of sinners against himself, lest ye be wearied and faint in your minds." Hebrews 12:2,3
Jesus was not upset when He hung on the cross because His mind was on heavenly things. He knew that being on the cross was the only way that you and I could be in Heaven with Him. Jesus' mind was on a better place, and so should ours be. If our mind is in the gutter, we'll most likely be up- set by the trash. Even the Christian martyrs faced their deaths with peace and joy as they were tortured and burned at the stake by making up their minds to follow the Lord.
Spiritual warfare is very real and its battleground is the mind. Worldly things and heavenly things are contrary one to the other. We can't set our minds on the world and heaven at the same time. It should be a "no brainer" because we can't depend on worldly things. We can though de- pend on God and heavenly things. We often expect too much from the world and too little from God and that can be upsetting. Really, as Christians, we have renounced the world as our means of happiness, so it would be absurd for us to set our minds upon it and seek it. Actually, we should have a "single mindedness" which should help us to be unaffected by worldly things. Think about it; our life really lives in another world, hidden with Christ in God. This is our security set up! The world passes away, changes, lusts and fails, but our life is in Christ who lives forever.
"Yet a little while, and the world seeth me no more; but ye see me: because I live, ye shall live also." John 14:19
Life on earth can be besetting and upsetting. But our Lord Jesus is not The Prince of Peace for nothing. Above all, He has promised to keep us in perfect peace when our minds are set on Him. As the elect family of God, we can set up because He is set down on the right side of the Father to make intersession for us. May the Lord help us to lift up Christ so that what we and the world may mess up, will be in reality a set up for His glory and not upsetting for our witness of His grace.
Brother Randy
"Because I live, ye shall live also." John 14:19
---
August, 2020
On a recent trip to St. Simons Island, as we were walking from the beach along a sandy path wrapping around the sand dunes, I noticed the Sea Oats. It wasn't as though I had not seen Sea Oats before, it was because I had never noticed them the way I did that day. Actually, there may be a lot of things, even people, God's grace and creation that we see every day but don't notice. I see the sun rising outside my window, but to notice it, I have to realize by the sun I see everything else. I saw the Son of God when I read Revelation chapter twelve and verse eleven during this morning's Bible reading, but I noticed Him as my Saviour when the verse cited the "Blood of the Lamb" as the power to cancel the debt and power of sin in my life. And, like noticing the sun resulted in the revelation of creation, noticing the Son of God revealed everything else that really matters to bring peace and joy in every circumstance and situation.
That day though, the Sea Oats seemed to have a special message which impressed my mind as I walked through their territory. They were gathered in clumps along the dune path, bowing gracefully to the power of the ocean's mighty winds and waves. The sun's rays caused their beautiful stately crowns of oat jewels to glow with a golden luster waving back and forth in the sea breeze. I thought of how Moses' face shown with brightness after his encounter with Almighty God after receiving the commandments. In a way, Sea Oats have received the commandment of the Creator God Jehovah, because they appear where God has commanded the sea to stop. It's really hard to imagine how anything can grow and even thrive in such harsh conditions. God must have planted them and they, by the power of their Creator, bloom where they are planted.
Did you know that you are a planting of the Lord?
"And he shall be like a tree planted by the rivers of water, that bringeth forth his fruit in his season; his leaf also shall not wither; and whatsoever he doeth shall prosper." Psalm 1:3
I think true Christians are a lot like the Sea Oats. The new birth experienced by every elect child of God is most certainly a miracle. And like our Saviour who was prophetically described as a root out of dry ground, so every believer has been given new life and transplanted from spiritual deadness unto springs of overcoming oasis: And, the Christian is not taken directly to heaven after the new birth, but is planted in a harsh environment for the specific purpose of glorifying God by keeping His commandments and testifying of His grace and mercy.
The scientific name for Sea Oats is Uniola Paniculata. I'm probably pushing poetic justice too far but their scientific name came across to me as meaning "unity diminishes
panic." Sea Oats grow in clumps or groups and they all seem to be bowing to each other. The high priestly prayer our Lord Jesus prayed in John seventeen focused on unity and intimacy with the Father in Heaven. And the context is living in unity without panic and fear even though the place we are to live will be hard going.
"I pray not that thou shouldest take them out of the world, but that thou shouldest keep them from the evil.




"And the glory which thou gavest me, I have given them; that they may be one, even as we are one." John 17:15, 22
This world can be a pretty harsh environment. Remember though we are not alone, for God has promised never to leave or forsake us. And we ought to make sure the people God has placed in our lives; family, friends or church members are not alone either. There is strength in unity! The more cords a rope has the stronger the rope will be. That's important to know because there are times when we get to the end of life's rope and we must tie a knot and hang on! An ancient Roman battle theme was "divide and conquer." The Romans got that from Satan who is the ultimate divider and subsequent destroyer. The devil is adamant about separating us from God and each other and he's pretty good at it. So, just as the Sea Oats stabilize and congregate the ever separating sands, true "Salt Life" Christians form the mounds that get us to the hill.
Now I'm not a real "seaworthy" vessel, nor do I have a "Salt Life" sticker on my windshield, but I did find some very interesting biological details about Sea Oats which may have a spiritual application. Sea Oats are extraordinarily tough grasses. They thrive in hot sands (120⁰- 127⁰ F). Sea Oats tolerate exposure to salt sea spray and withstand hurricanes and drought. A special fungi bind to the roots (in a positive way) to increase access to nutrients since the plant is growing in such stressful places. The roots of
Sea Oats can be up to thirty feet in length. They are important to the preservation of sand dunes which protect barrier islands from storms and hurricanes. As the plants stabilize the shifting sands along the crest of the dunes, they prevent erosion. They benefit lots of creatures too including the endangered sea turtles who lay their eggs in the sand dunes formed and protected by the Sea Oats. During the summer the stems can reach up to six feet in height and are topped with a cluster of graciously drooping clusters of flat, yellowish oatlike seed heads. Sea Oats have an important, even critical purpose in building sand dunes that help protect the island and the beach during stormy times. Sea Oats are also protected by state law although they are not endangered. The oats are a crucial component of hurricane defense strategy along the shore lines.
With the right sort of spiritual discernment, you and I will most likely notice some "Sea Oat" Christians which God has planted in our lives to protect us from the storms of life and to build us up when life changes shift and scatter us. May the Holy Spirit enable us not only to see these wonderful people, but also to notice them as critically important plants in God's kingdom on earth. And, if we really get into "Sea Oat" watching, just maybe our roots will grow deeper and will start building some dunes of grace rather than drifting with the winds of the world like tumbleweeds. I can think of many "Sea Oat" Christians God has placed in my life. Besides my wife and family, I remember people like Sister Edna Mae Proctor, who, when she was in her eighties, stood one morning at our front doorsteps holding a dish of food she had prepared for us during our infant son John's illness. I hadn't thought of her in years, but she came to my mind when I started thinking about Sea Oats. Maybe it was the way she was standing, swaying there from old age and infirmities, yet tall and graceful, saying with actions louder than words, "I love you and I want to help and comfort you and protect you from the raging storm behind you." Then there was the time our 5 year old grandson Hunter had emergency surgery to fix an intestinal blockage at East Georgia Hospital. It was on a Thursday night before Easter and we had just celebrated the Lord's supper and feet washing at Statesboro Primitive Baptist Church. I know Jennifer and Ken noticed more Sea Oats than me that night because the waiting room at the hospital began filling up with people from the church who stopped by the hospital to offer prayer and support for Hunter and the family. Sea Oats do grow in the toughest places and they seem to even thrive in hospital waiting rooms and around the edges of sickbeds at hospice houses and nursing homes. Jesus is our Lighthouse, but Christians are the Sea Oats that provide the solid ground needed to maneuver once the Saviour has rescued us from the darkness.
So, the ocean is a wonderful place to magnify our gracious and powerful Creator God. The waves tell the story of His ever renewing mercy. And the sea shells hum the melody of the empty tomb of our risen Saviour. Let's not overlook the Sea Oats though. God may be nudging us to notice them.
Our lives in Christ are not exempt from storms and strong winds of a spiritual nature. Yet, the word of God promises us that through Christ Jesus we can make it. We can and will hold on to what we have in Christ. The pressure of this fallen world need not erode our faith nor make us fearful and panicky. Like the Sea Oats we are to be deeply rooted.
"As ye have therefore received Christ Jesus the Lord, so walk ye in him. Rooted and built up in him, and stablished in the faith, as ye have been taught, abounding therein with thanksgiving." Colossians 2:6, 7
Hold on to Christ and you will hold on to all that's important in life. Holding onto Him though often requires us to let go of something else. Sea Oats hold on to what they have and they accumulate more because of it. Doesn't Jesus tell us that if we seek our Heavenly Father first (Hold on to Him), all the other things will be added to us? That my friend is Sea Oat theology!
The Sea Oat is not only a very strong plant, it is also a very tender plant. Jesus Christ is a perfect example of awesome strength and the softest tenderness. Now gentleness or tenderness is not the absence of strength but it's the application of great strength and power to a very touching and tender situation. The mighty arm and strong hand with which our Lord rules is also the tender arm that carries us as lambs and the helping hands that reach and hold us in our darkest moments. That's why Jesus is such a wonderful Savior! He is all powerful but so compassionate with affection. He is sensitive to our every need. That should make us think and think about Him more. If we will do that, we may show a sliver of His likeness when the waves begin breaking on someone else's beach.
"A bruised reed shall he not break, and smoking flax shall he not quench, till he send forth judgement unto victory." Matthew 12:20
I think a bed of Sea Oats would make a pretty comfortable resting place. Even though the tidal pools and oily mud in the nearby marsh may mean cut feet and dirty hands, the Sea Oats stand tall and glistening. That's because Sea Oats like the sun. The closer we are to Jesus in our practical everyday life, the cleaner our hearts will be too. You know cleanliness is next to godliness. A Sea Oat Christian is a Christian who pursues (follows after) holiness. That doesn't mean that Christians always get it right. Some of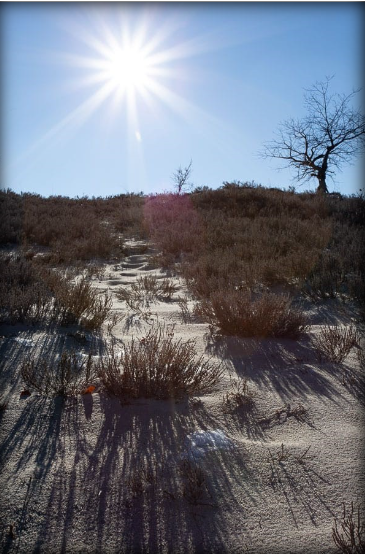 us can make some pretty big messes and we all sin every day. But you know what? — We are still loved unconditionally by our Heavenly Father. Although He will often chasten us, He will never not love us nor call us guilty. The reason is, His only begotten Son, Jesus Christ, took our place on Calvary's cross and cleaned up our sinful mess. His resurrection means that our ugliest sins are wiped completely clean just like an Etch-ASketch pad does a bunch of scribbles and marks. There is a big difference in Sea Oats and sea weed. Living like Sea Oats makes for boldness and confident service, while living the "Sea Weed Life" is worldly and will fill you with worries, even tangling you enough to drown you or at the very least covering your fishing lure so that you won't catch anything.
Sea Oats are clean because they are limber, they bow a lot. Sea Oat Christians must bow a lot too. We must bow to life's circumstances to which we cannot control. Just like the stable Sea Oats bow to the winds and stormy times, we also should humble ourselves before the mighty hand of God, submitting to His work in our lives even though it hurts. In a fallen world like we're living in, all of us are people who have both sinned and been sinned against. Some people have deep wounds too! So in our pain and confusion, in our weakness and messiness, we come to Jesus and He helps clean and comfort us. It's not only an ocean "fix" which some- times we need to adjust our heart, it's the Sea Oats waving in the wind that remind us of what a privilege it is to suffer for His kingdom's sake and have others around us doing it as well.
I hope God's grace will cause all of us to be limber enough to con- fess our sins, because even though His death, burial and resurrection took away all our sins legally and mercifully, we still desperately need daily cleansing in order to practice the godly position we have in Christ.
"If we confess our sins, he is faithful and just to forgive us our sins, and to cleanse us from all unrighteousness." 1 John 1:9
Not only do Sea Oat Christians bow to confess their own sins as well as their submission to consequences beyond their control, they also bow to one another. The Bible tells us to prefer others before ourselves and the Sea Oats remind us that God is not kidding when He commands us to love our neighbor as we love ourselves.
The cleaner our hearts and souls are the more flexible we will be when we can't get our way, or when life throws us a curve and a detour. The peace of knowing that our sins are forgiven and the fellowship with the Lord Jesus fills our shoes with the gospel of peace so that when the strong winds blow and the shifting sand is cutting our faces, we can roll with the punches so to speak. A Sea Oat Christian seems to be bowing all the time yet never breaks. Actually, if we will admit it, we are usually happier when we're NOT having our way, but doing something for someone else. Being flexible is not being fickle or flimsy, but with a firm footing of faith stretch- es to help others and glorify God by stamping out selfishness and standing up with humility.
Most of us go to the beach to see the ocean. But the next time you take a trip to the sea shore, re- member what the Sea
Oats are there for. And they will be there, no matter how high the hurricane winds or how severe the drought or how high the floods. Sea Oats are God's nature memorials to help us remember that most of the time, it's not the rich and famous, the pretty and glamorous or the biggest champion, but the ones in the back- ground, those in the shadows, those willing to let the others have the lime- light who really do the most for us. Just as Sea Oats are protected by state law, so does God protect His own for they are the apple of His eye. Please know that when nobody else notices you, God does. The greatest feeling though is just like the Sea Oats, the Salt Life Christian goes on serving God even though no one else notices and rejoices that it's so! As we walked from the beach that day through the narrow sandy path which meandered through the dunes, the Sea Oats seemed to be waving goodbye and inviting back all in the same gesture. Enjoy the beach, see the great vastness of the ocean but remember God commanded those mighty waves to stop where the Sea Oats grow. Feel the waves and squish the beach sand between your toes, but always notice the Sea Oats.
Brother Randy